Pierre Gaston Watch: New Tourbillon Models And A Tokki Project Collab Capsule Collection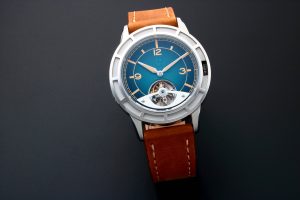 In celebration of our new website design, we are thrilled to announce the arrival of a new line of exclusive Pierre Gaston Tourbillon watches! With the same standard of design and craftsmanship for which Pierre Gaston is admired, the new collection is set to enter the scene with a fresh dial aesthetic and distinct dial colors. Watch aficionados can enjoy our patented case design with not only these exciting new features but with finely constructed watch straps from the ever-innovative Tokki Project. These refined and yet playful watch designs are sure to cause a flurry among those who value beautiful timepieces as much as we do. So without further ado, let us introduce our new Tourbillon models within the Tokki Project Collab Capsule Collection.
Pierre Gaston X Tokki Project: A Worthy Collaborator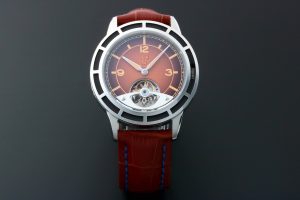 As another brand that emphasizes small-scale production and artisanal craftsmanship, our partnership with Tokki Project is a match made in heaven. Launched with the goal of supporting and celebrating the Italian handmade leather crafting traditions, the Tokki Project creative studio has amassed a cult following for their limited edition watch straps. This is why we considered it so exciting to collaborate together on the creation of entirely new watch strap designs. We feel that our Tokki Project Collab Capsule Collection is evolving at its finest!
This fascinating studio collects and curates a treasure trove of quality leathers, textiles, and trims from sources around the globe. They favor decentralized supply chains and small, family-run businesses. The elements of craftsmanship and stunning materials are married by exceptional design and attention to detail. Each collection of watch straps has a unique back story and is handcrafted as part of ongoing labor of love! Their website states that they are always looking to partner with innovative thinkers, brands, and manufacturers – across industries – to collaborate and develop new projects. For Pierre Gaston watch, these were the indicators of a destined relationship, which is about to blossom!
Ground Breaking Design Concepts
Fans of Pierre Gaston watch can enjoy our spectacular open dial, revealing the Tourbillon cage beneath. Slipping the watch off and turning it over will reveal a second aperture of sapphire crystal case back for another view of the intricate mechanical workings within these elegant watches. Each new dial features a re-envisioned numerical display, color-coordinated with the watch's hands, and set against a complementary dial color. Each automatic mechanical self-winding watch is made yet more unique by the adventurous watch strap designs.
For this collection of new Tourbillon models, Tokki Project created joyful color-combining leather straps with contrast loops and stitching. Such fun elements only contribute further to the authentic and expressive nature of these unusual watches. Wearing one on your wrist is certain to draw fascination and compliments! True to their reputation, each strap from Tokki Project is part of an extremely limited run. Fans of Pierre Gaston watch and Tokki Project alike should note that this capsule collection, complete with its unique straps, will be for sale in very limited quantities. Don't miss your chance to claim one of the rare and spectacular new Tourbillon models from the Pierre Gaston and Tokki Project Collab Capsule Collection!
Introducing Full Customization Through The Pierre Gaston Atelier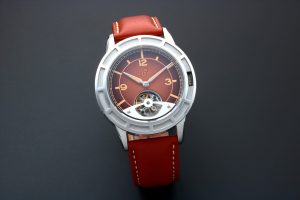 We understand that, for the customers of Pierre Gaston watch, unusual and limited designs offer substantial appeal. After all, the watch we wear is an extension of ourselves – helping us portray our identity as we move through the world. This idea motivated us to take the potential for individualization to the next level. In the second quarter, we are happy to announce that the Pierre Gaston Atelier will be launched. In this area of our website, you will be able to customize your next Tourbillon watch to your ideal specifications! Choose from a spectrum of materials, finishes, dial colors, movements, and watch straps – for a fashion statement that is just as unique as you are. Enjoy the spectacular patented case with a see-through skeleton case back, revealing the inner workings of a masterful timepiece. In watchmaking terms, there is no greater luxury.